When you're ready to make the move to real money racing betting, you'll need to make a deposit to fund your account. There are a number of banking options for doing so and they are all fairly easy to use. Cash, credit, online banking, prepaid gift cards and even old-fashioned paper checks are all options you have at most sites.
There's no single best banking method as they all work well and don't cost much (if anything) to use. The best option for you is the one that suits your needs. Those of you who are extra cautious may prefer to use prepaid gift cards while others may find online banking the most convenient. It mostly comes down to personal preference.
Credit and Debit Cards

Every single racebook in the world accepts credit and debit card deposits. This method is easy to use but some sites charge fees in the range of 3 to 5% to cover the fees they pay for accepting the big brand name cards. That's the downside. The upside is you can complete your deposit in about 30 seconds and be ready to place bets immediately.
The minimum and maximum deposit for debit and credit cards vary from one site to another, but I've seen anywhere from $10 at the low end to $1,000 at the high end. Although if you're considering making a deposit on the high end, you might want to consider an electronic banking transfer to avoid the fees that come with credit cards.
Note: VISA cards still sometimes have problems processing as many issuing banks automatically decline all transactions to online wagering sites. Even though horse racing is legal in the US, some banks have a blanket policy for simplicity's sake. If your VISA doesn't work, you'll need to try a different card or deposit method.
Best for: Smaller deposits in the $10 to $300 range.
Fees: Sometimes free but usually 3-5%
Accepted brands: Visa, MasterCard, American Express and Discover
Accepted by:
Green Dot MoneyPak

Green Dot MoneyPaks are prepaid vouchers that you can pick up at major retailers such as Wal-Mart, Kmart, Walgreens and such. After you buy your voucher, go back home and log in to your racing betting site and visit the cashier. Inside there, you type in your activation code to complete the deposit.
Green Dot vouchers can be purchased in amounts of $20 to $500. Most racing websites accept up to $1500 per transaction with this method which you can accomplish by combining three vouchers. Betting sites charge nothing for using this method, but stores charge $4.95 for the purchase. BetAmerica reimburses you for the fee if you deposit $100 or more.
Best for: People who don't wish to reveal their banking information
Fees: $4.95 at the point of purchase – no fees from betting sites
Where to buy: Store locator
Accepted by:
Vanilla Reload

The Vanilla Reload is pretty much the same idea as the Green Dot MoneyPak. You visit any of those same major retailers or pharmacies, buy your card and then redeem the PIN number when you log back in to your betting account. The balance of the card is transferred automatically and instantly to your betting account.
These cards also come in denominations of $20 to $500 but have a slightly lower purchase fee of $3.95 at most stores. After you finish your deposit, you can either reload your card again online for later use or cut it up and throw it away. You can load your card in the beginning either at the point of sale or by visiting the Vanilla Reload website and adding funds online.
Best for: You don't want to reveal your banking info / you don't have a bank account
Fees: $3.95 at the point of purchase – no fees from racebooks
Where to buy: Store locator
Accepted by:
Electronic Transfer

Electronic transfers move money directly from your checking account to your player account at a racebook. These go by a variety of names such as e-check, e-cash, EZ-Money and BetCash but they all work in the same manner.
You can deposit with this method by logging in to your betting account and choosing the bank transfer option. There, you type in your checking account number, routing number and the amount to deposit. Your funds should be available immediately and there are no fees associated with this method. This is a good option for anyone with a bank account.
The minimum and maximum deposit amounts vary. Generally you can expect to see a minimum deposit of $10 to $25 and a maximum of $1,000 to $2,000.
Best for: anyone with a bank account
Fees: No fees
What you need: A bank account
Accepted by:
Cash Transfer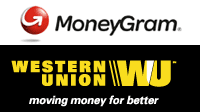 Cash transfers use services such as Western Union and MoneyGram to fund your account. Log in to your betting account and choose this method to get instructions for where to send your money and what information you need to provide. Then, you can visit a cash transfer station (Wal Mart, Albertsons, CVS and other locations) to complete your deposit.
Betting sites charge no fees for this method but MoneyGram and Western Union do charge a fee based on the amount you deposit. The minimum deposit with this method ranges from $1 to as much as $100 with the maximum usually around $900 per transaction. The exact amounts vary so you'll need to check with your site for the exact details.
MoneyGram and Western Union also have an online payment option if you don't feel like driving to the nearest location. Sending money online in this manner does require a credit card.
Best for: Sending cash, don't want to reveal your banking info
Fees: Vary based on amount sent
Locations: MoneyGram and Western Union
Accepted by:
Online Banking Bill Pay

If you have online access to your bank account and your bank has a bill pay feature, you can use that to send money to your betting site. Your betting site will provide you with their address and phone number which you will input in your bank's bill pay feature.
The advantage of this method is it's easy to use, fast and cheap. The deposit limits start at $1 per transaction and go up as high as $500 per transaction. If you'd like to use this method, log in to your racebook and choose the bill pay deposit method for all the details you need to get started.
Best for: anyone with a bank account
Fees: No fees
Accepted by:
Check or Money Order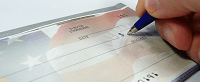 Another option for funding your account is to mail a check or money order to your betting site's headquarters. You'll find the mailing address inside the deposit area when you choose this method. The minimum deposit is just $1 (although I'd recommend more than that for a check). Maximum deposits range from $10,000 to unlimited.
The biggest downside to this option is the wait time. Not only do you have to wait for the check to arrive by mail, but the site will also wait 5 business days to make sure the check clears. Only after that wait is over can you bet with the money you sent.
Best for: large deposits
Fees: No fees
Accepted by:
In-Person Deposits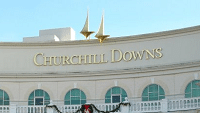 The licensed betting sites that operate here in the United States have physical locations at various tracks and offices. If you live near one, you can stop by any time and give them cash or credit to fund your account. This method is extremely convenient if you happen to be close to a location. It's also free and comes with no maximum deposit limit.
Just don't forget to sign up for an account first. They can't accept your deposit in-person if you don't have an account to credit.
Locations for TwinSpires:
Churchill Downs at the US Bank Kiosk
Twin Spires call center in Lexington, KY
Scioto Downs in Columbus, OH
Locations for TVG.com:
Keeneland in Lexington, KY
Suffolk Downs in East Boston, MA
Hollywood Park in Inglewood, CA
Fairplex Park in Pomona, CA
Los Alamitos Race Course in Los Alamitos, CA
Turfway Park in Florence, KY
Fairmount Park in Collinsville, IL
Emerald Downs in Seattle, WA
Wire Transfer
TwinSpires is currently the only racing betting site that accepts Wire Transfers. If you have an account with TwinSpires, you can log in to your account and choose this method for the instructions on where to send the wire. Take those details to your nearest bank branch and tell them you'd like to send a wire.
TwinSpires.com charges a $10 fee for wire transfers but waives that fee for deposits over $1,000. Your bank may also charge you a fee for sending the wire.
Best for: Large deposits
Fees: $10 for deposits under $1,000; free otherwise
---
PayNearMe
PayNearMe makes it easy to use cash to fund your betting account. When you choose this method, your site will give you a unique pay code that you can print or display on your smartphone screen. Take that code to your nearest 7-Eleven or Family Dollar and the cashier will accept your cash payment. Your betting account will be credited with the deposit instantly.
Best for: Cash deposits of $500 or less
Fees: $3.99 per deposit
Accepted by: