No matter how sophisticated a betting system is, it is foolhardy to ignore the form of the field. While you shouldn't take form at face value, it remains a valuable tool in your quest to create a shortlist in a race. What do you do if there is little or no form? Plenty of experienced punters would advise you to skip the race and focus on the next one.
Top Rated Betting Sites for Races of all Types
If you're not prepared to put in the extra effort, the above advice is sound. However, if you dig deep, you just might come across the occasional gem at a nice price. In this guide, I will go through a few steps you can take to make intelligent selections without the aid of form reading.
1. Review Whatever Form You Can Find
It is primarily novice and juvenile races where you find fields with minimal form between them. While such races will have a lack of form, they may not have a complete absence. It makes sense to review whatever form is available.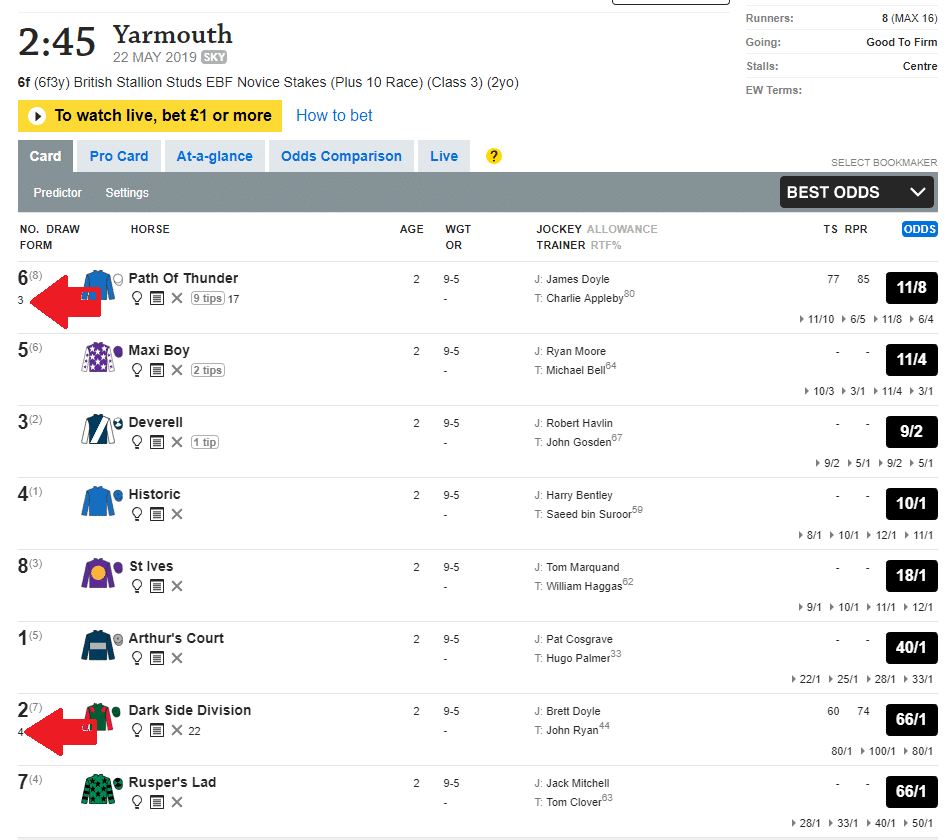 As you can see from this race at Yarmouth, only two horses have run a race before. The favourite, Path of Thunder, finished a disappointing third out of four runners but that was a 5f race, and this is a 6f race. The horse ran green and showed a little bit in the final furlong. This suggests there is more to come.
Dark Side Division was fourth out of five in a race a class below today's event. The review of the horse's run said he was beaten a long way out. Even this snippet is enough to suggest that Dark Side Division is highly unlikely to be a contender today.
It may also be worth checking out any available speed ratings from previous races. This offers a better perspective than a horse's finishing position. From the first screenshot above, we see that Dark Side Division's Top Speed (TS) figure of 60 is way below Path of Thunder's at 77. Also, the favourite received a Racing Post Rating (RPR) of 85 compared to Dark Side Division's rating of just 74.
2. Franking the Form
The process of 'franking' form relates to finding out how a horse's opponents have fared since.

In Path of Thunder's case, the winner of his first race has not raced since while the other horse to finish ahead of him, Electrical Storm, also hasn't raced since but had a second place to its name in a previous race.
As for Dark Side Division, the winner of his race finished 13th in the next race, but as it was a Class 1 at York, it is hard to read too much into that. More pertinent is the fact that Don't Joke, the horse that finished third in Dark Side Division's debut, went on to finish a disappointing sixth in a Class 4 next time out.
3. Trainer & Jockey Form
When there is a lack of form for a horse, data surrounding trainers and jockeys becomes even more important.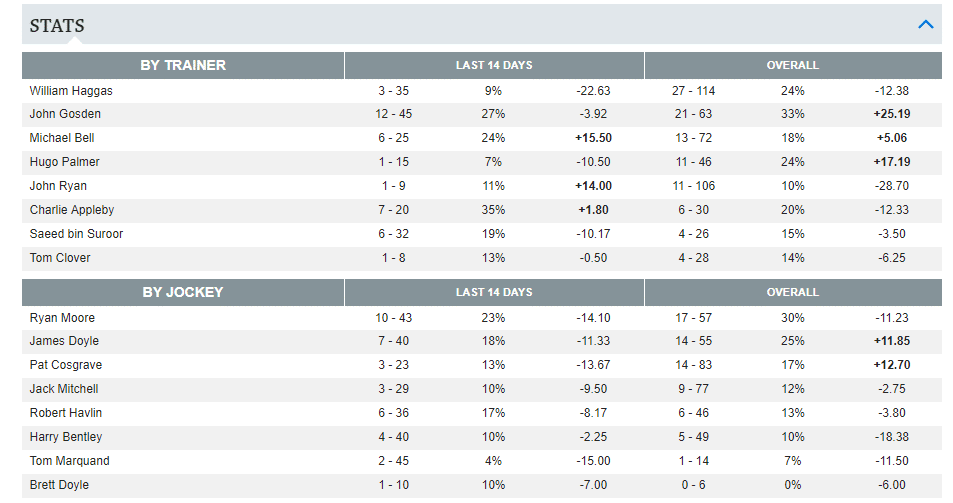 From the above screenshot, we can see that Michael Bell, Maxi Boy's trainer, has won 24% of his races in the last 14 days, while Charlie Appleby, who trains Path of Thunder, has a 35%-win rate over the same period.
The overall tab you see on the far right relates to the individual's record at the track over the last 5 years. John Gosden has a 27% strike rate over the last 14 days and a 33%-win rate at Yarmouth, which is VERY interesting. Gosden's horse is Deverell.
In the jockey section, Ryan Moore, who saddles Maxi Boy, has won 23% of his races in the last fortnight and has a 30%-win rate at Yarmouth. James Doyle saddles the favourite and has a 25%-win rate at Yarmouth.
If you have the software, you can dig even deeper and find out how well trainers perform with first-time runners. For instance, John Gosden has won just 15.88% of races with a horse that has never run before in Flat UK races. Charlie Appleby has won 26.2% of his races in contrast, but in this case, he is training a horse that HAS a career run.
His record with horses that have never won a race before is even more impressive however, with a 27.2%-win rate. The win percentage swells to 46% on Appleby horses who were also the clear favourite.
4. Sire Form
Breeding is another important aspect of horse racing. For instance, the progeny of Frankel will always attract market support in the early stages of their careers. Of all the runners, Deverell has the most interesting lineage having been sired by none other than Kingman. Horses with Kingman as their father have won dozens of Flat races in the last year alone which automatically ensures Deverell will catch the eye of a few punters.
However, other horses in the race also come from famous stallions. For instance, Maxi Boy comes from Oasis Dream, a horse that has sired hundreds of winners to date, including over a dozen Group 1 winners. Path of Thunder is the progeny of Day of Thunder who has only sired one winner from six horses to date. Historic from the Godolphin stable is more interesting as he is the progeny of Shamardal, who has sired horses that have won numerous Group 1 events.
5. The Market
Finally, we come to the market to learn more.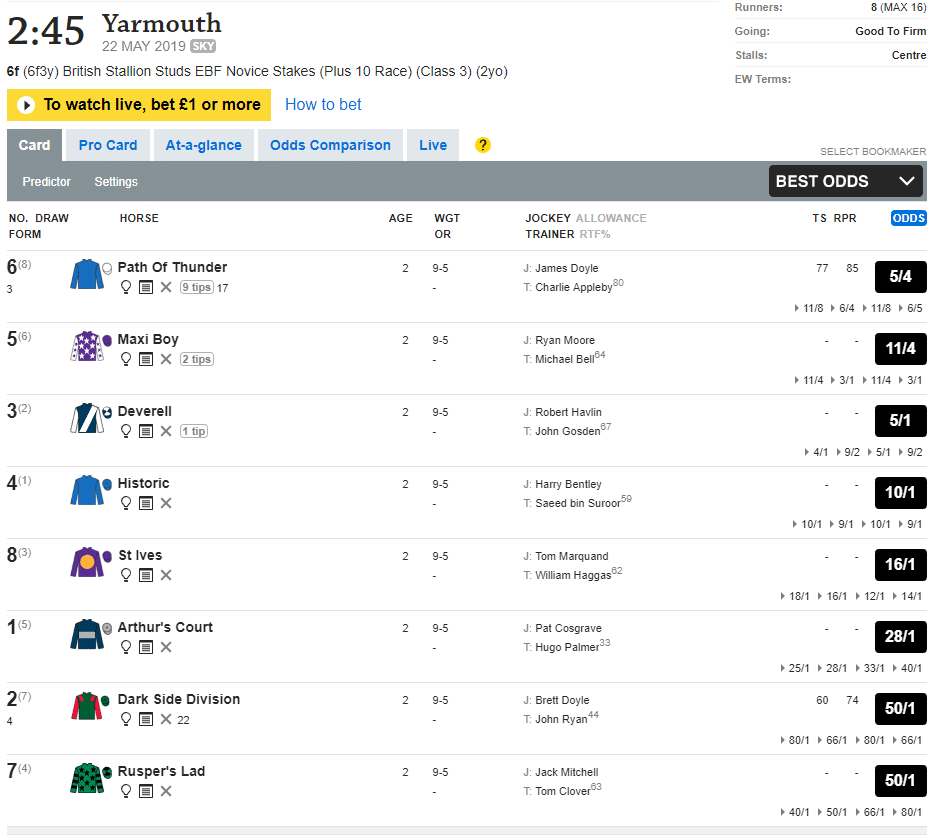 The market is often a useful guide if there isn't a great deal of form. What we're looking for are horses that attract major support. In the screenshot from the Racing Post above, you should look at the odds list beneath the current Best Odds.
In this case, there isn't a large enough move on any of our top prospects to warrant further attention. If a horse's odds suddenly tumble in the last half hour or so before the race, it is advisable to take a second look at the horse in question. Don't blindly back the horse! Instead, review its credentials and try to determine why punters are piling on.
Final Thoughts
Personally, I don't tend to wager on races with minimal form, but everyone is different. If you believe you can take on the bookies and win in novice or juvenile races, use the tips above to help, you eliminate non-contenders and perhaps find a horse that would otherwise escape your notice.